Bigwin offers one of the most comprehensive Roofing Products, accessories and Pre-engineered steel buildings (PEB) with structures. Its applications include major market segments like heavy industry, infrastructure, high-rise buildings, warehouses factories and leisure structures.
The company assures best delivery of customer-designed and cost effective solutions for Roofing and Pre-engineered buildings and structures. It also provides optimist manufacturing quality standards and a commitment to deliver top-notch service to its customers.
The company is extremely dedicated to provide excellent and unmatched product quality, coupled with good speed, safety and superior sales services.
Established in the year 2011, We Bigwin Roofing Company, is counted amongst the major manufacturers, distributors and suppliers of metal roofing sheets & related accessories. Our quality range includes Decking Sheets, Polycarbonate Sheets, Profile Sheets & Pre Painted Roofing Sheets. We have a sound infrastructure spread across a sprawling area in the industrial township of Taloja, Maharashtra.
The products are manufactured in a wide range of sizes conforming to the specific customer requirements. The products are manufactured using raw material conforming to strict quality standards and is procured from reputed manufacturers. Our products cater to a variety of industries like industrial warehouses, Railways, Sugar and Paper Mills, Auto Industry, Chemical and Fertilizer Plants, Petrochemical Projects etc.
Our organization is lead by "Mr. Nitin Bhardwaj", who is counted among the best in the industry and inspires us to achieve the goal of attaining complete customer satisfaction. He is the driving force behind our pursuit of excellence and has scripted the success story of the organization. His acute business acumen and extensive technical knowledge have propelled the tremendous growth of the organization.
Bigwin Roofing has been leading the market for 20 years as a distributor for JSW Steel Ltd., Tata BSL Ltd., Asian Colour Coated Pvt. Ltd., Uttam Galva Steel Ltd., etc.
Out of several strategically positioned manufacturing and storage facilities located all around Mumbai is Steel Hub Taloja MIDC, also the location of Bigwin Roofing, which aids in much better transportation facility.
Bigwin Roofing boasts of machinery that is fully automatic, high speed, and two-in-one width selectable.
Bigwin's team has the upper hand in the market with the help of its knowledge-able, technically sound, highly motivated and forward-thinking team.
Bigwin Roofing has a wide-range of network of dealers, distributors and fabricators who are spread across Maharashtra and thus helps in marking it's presence across India.
Hi-Rib Roofing sheets
Hi-Rib roofing sheets or pre-painted colour coated sheets are profiled from Galvanised and Galvalume cold rolled coils. They are pre-coated with Zinc and/or Aluminium along with other trace materials.
It's thickness range from 0.30mm to 0.80mm and in various standards of RAL shades. We provide cover-width rang from 1000mm to 1220mm depending on customer's requirement.
Clip-Lock sheets
Klip-Lock sheets are profiled from Galvanised and Galvalume cold rolled coils. They are pre-coated with Zinc and/or Aluminium along with other trace materials. They can be used as wall panel as well as for roofing requirement.
They come with an added advantage that no screw is used in them which results in puncture-less sheets. Thus, reducing the risk of water leakage higher protection against rains. They provide supply-width of 610mm.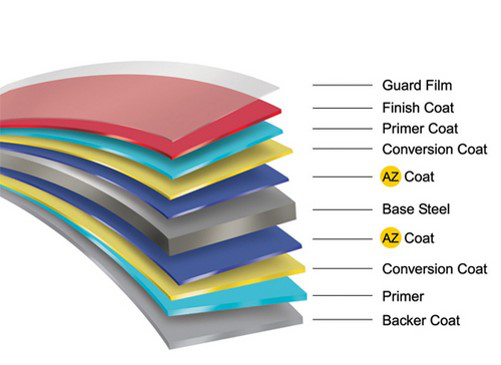 Tile Profile
Tile Profile Roofing sheets are wide, durable, light-weight steel roofing profile, with a traditional and aesthetically pleasing appearance. It is ideal for commercial, institutional, agricultural and residential applications. These sheets are Strong, light-weight and has better thermal performance.
Deck sheets
Decking sheets are Zinc-Coated steel sheets that acts as a permanent framework and provides a strong working platform during slab construction. The trapezoidal shape enables faster construction and ease in overlapping during installation. It acts as a permanent shuttering solution and provides simultaneous casting of multiple floors.
They are available in customised lengths and is used widely for concrete or steel frame construction and is suitable for applications in industrial, commercial and residential segments. They provide excellent spanning capacities for greater strength and less deflection at the same time greater corrosion resistance provides long life.
Visit : www.bigwinroofing.com