How can Deceuninck Windows help contribute to a Healthy Indoor Environment:
Recent studies have shown that Indoor Environmental Quality has a direct bearing on the well-being of the occupants of the building, The study involves reaction of human beings to indoor Volatile Organic Compounds, dust, dampness, thermal comfort, acoustic and physiological issues. It has been found that the problems range from transient sensory irritation of the respiratory tract to diseases that can be life threatening. These problems can be generally divided into two categories: Sick Building Syndrome (SBS) and Building-Related Illnesses (BRI).

The Indoor Environmental Quality (IEQ) has multiple factors influencing it. It can be grouped into 3 categories and its source and solution can be addressed accordingly.
Indoor Air quality
Biological pollutants – Bacteria, Virus, Dust mites, Fungi, Mould, Endotoxins
Chemical pollutants – Carbo Monoxide, Tetrachloroethylene, Trichloroethylene, Formaldehyde, Nitrogen Dioxide. (mainly paints, solvents, cleaning liquids)
Thermal comfort
Wind
Relative Humidity
Temperature
Physiological
Aesthetics
Organizational
Psychosocial
Let's see how, Deceuninck Window Systems can address some of these issues:
Deceuninck window systems are designed to offer best in class performance in terms of water tightness, air tightness and structural stability. Why are these important?
Water tightness ensures no rain water leakage or seepage. This can cause dampness, mould formation and become breeding ground for various bacteria and virus. Check the water tightness of the Window Systems you buy.
Air tightness – While windows can't control the volatile organic compounds inside the house from paints or furniture or carpets but can greatly reduce the ingress of dust and particulate matter from outside. Multi-point locking, TPE Weldable gaskets, weather strips with fins in addition to properly designed Deceuninck profiles ensure best in class air tightness. During winters, indoor dampness needs to be released to ensure proper IEQ. Deceuninck offers ventilation solutions through its sister concern Tunal. These windows are available with built-in ventilation systems that allow fresh air to circulate throughout your home while still maintaining an airtight seal for noise insulation.
Wind resistance – Deceuninck India offers window systems through its authorised channel partner network. Each project is forwarded to our design department which checks the wind speed in the region, height and location of the building, size of the window and offers the best possible design to prevent window members form buckling, bending or deforming. A leaking window can be noisy and irritating.
Temperature – Deceuninck window systems come with possibility of inserting glasses of different thickness. High performance glass will ensure proper temperature control. Low Uf of the frame ensures high thermal insulation and energy savings. Keep the heat out in summer and the cold out in winter. The latest addition to our product stable is the Legend Art – 70mm casement system with capacity to hold 4mm thick glass up to 48mm.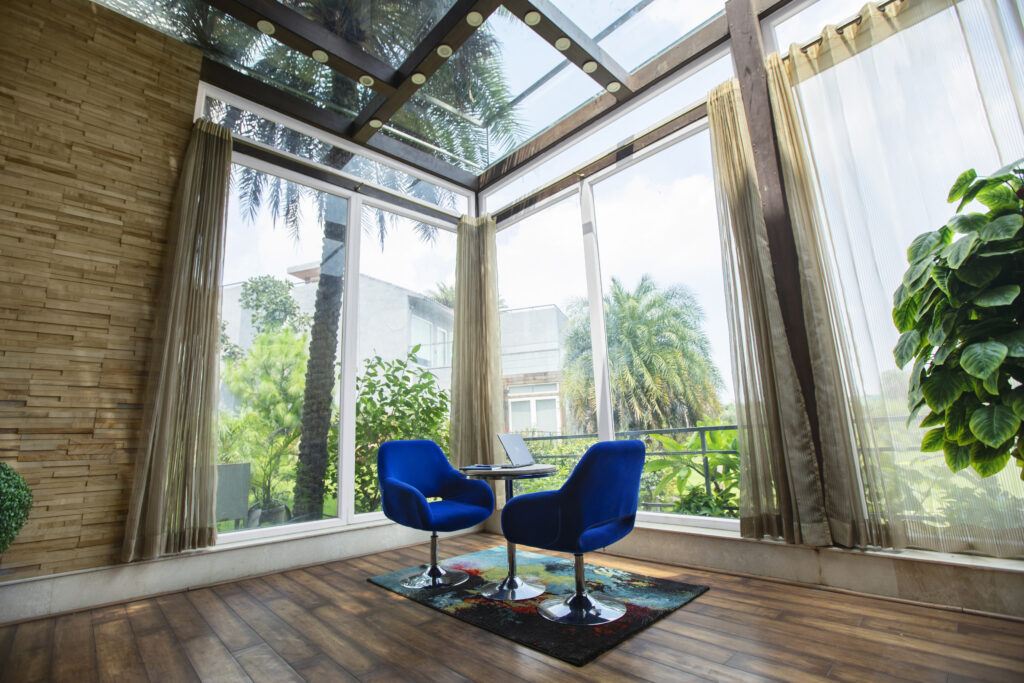 Deceuninck Window Systems also caters to the physiological needs by offering various designs, operators, hardware, combinations, colours and acoustic insulation. All the above backed with excellently trained, groomed Channel partners to offer the best service before and after supply of the windows make Deceuninck the preferred choice world over.
Deceuninck is a leading Belgian company specializing in the production of uPVC profiles for windows, doors, and curtain wall systems. With over 80 years of experience in the industry, Deceuninck offers a wide range of design options, including a variety of colors, finishes, and styles to suit any architectural design. Deceuninck is a trusted, reliable, and innovative provider of uPVC profiles for the construction industry, offering unparalleled performance, aesthetics, and sustainability. A true specialist in compound technology, design, development, extrusion, finishing and recycling committed to Building A Sustainable Home.
Deceuninck Profiles India Pvt. Ltd
Web : www.deceuninck.in