Fronius Wattpilot. Designed to move
There's a lot going on with the intelligent charging station from Fronius. The Fronius Wattpilot boasts load management, greater flexibility, a higher IP rating, and even more sustainability. Designed to move.
Constant improvement is part of the Fronius philosophy. "We work on enhancing our products and solutions every day of the week. The Fronius Wattpilot is the most recent example. The latest software features bring a host of benefits, both for the installer and for the PV system owner," explains Mr. Martin Hackl, Global Director Marketing & Sales Business Unit Solar Energy, Fronius International GmbH. Value creation also plays a major role in this: in keeping with the Fronius sustainability strategy, components from Europe are used to avoid long transport routes.

Fronius Wattpilot. Designed to move.
More and more companies are upgrading their vehicle fleets to electric cars, for obvious reasons. E-mobility is more sustainable than fossil fuels and also brings financial benefits. Driving is more economical in an electric car and the intelligent Fronius Wattpilot charging station optimizes these costs even more thanks to flexible charging.
With Wattpilot you can charge your EV at home or at the company's premises or when on the move.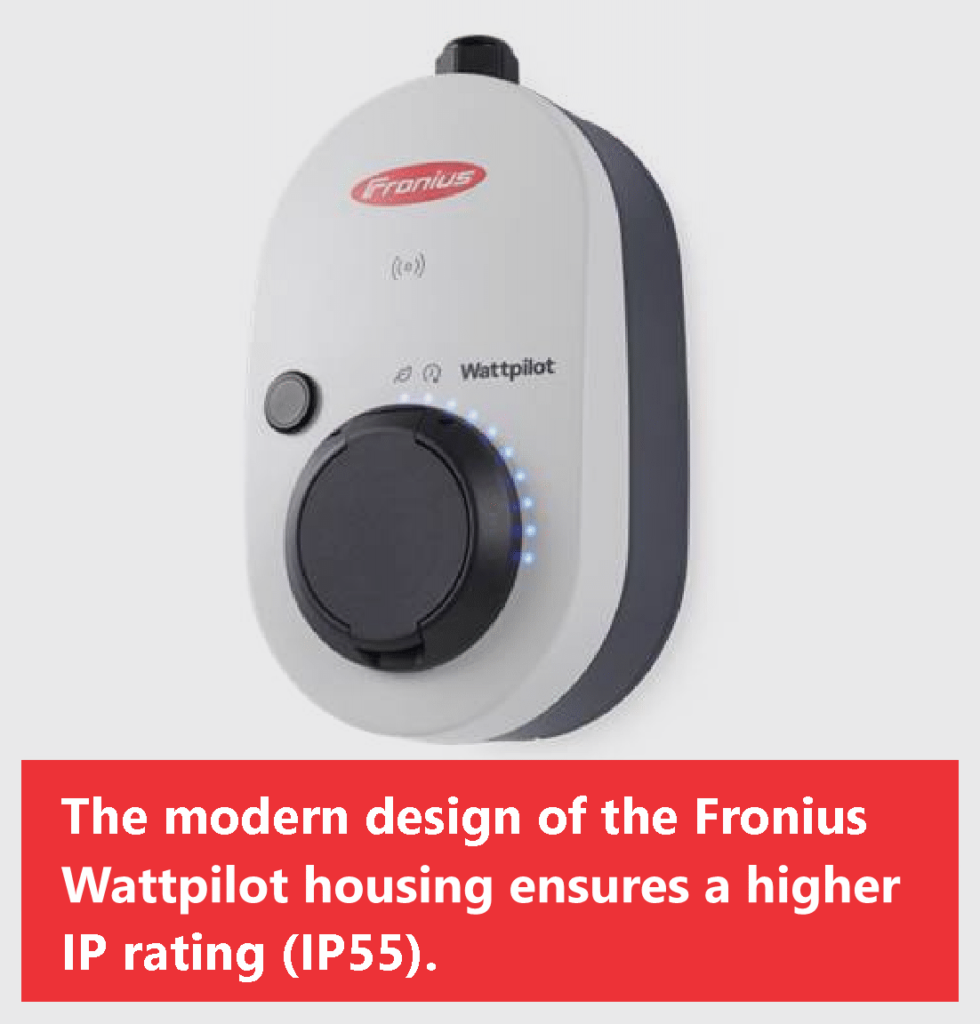 New features for the Fronius Wattpilot
One new feature is the OCPP (Open Charge Point Protocol) – a standardised interface for the management of charging stations. It enables charging reports to be created and load management to take place.
There's also good news for those who like to keep an eye on what's happening with all their energy flows: the Wattpilot is now shown in Fronius Solar.web. This gives users a uniform visualisation and the option to troubleshoot directly in the free monitoring tool. In addition, the Wattpilot has been given a new look, with the modern housing providing a higher IP rating of IP55. What's more, the WLAN range has been improved, increasing flexibility at the installation site.
"With Fronius Wattpilot you can charge your vehicle with your solar power or with the grid, you can charge at home or on the move. It's automatic, sustainable, safe and boasts loads of features such as intelligent charging modes, RFID authentication, dynamic load balancing, remote monitoring, and anti-theft function. This makes Fronius Wattpillot a perfect charger for your electric vehicle" – Mr. V. V. Kamath, Managing Director, Fronius India.
Energy-optimised charging
The Dynamic Load Balancing feature will also become available for all Wattpilot charging stations at the end of the year. Electric vehicles are usually charged at high power, which means that, if several vehicles are connected at the same time, the maximum connected load of the household will often be exceeded. Dynamic Load Balancing ensures the power is optimally distributed, resulting in reliable charging without the need to invest in a large and expensive connection infrastructure. Up to three electric vehicles can be charged simultaneously in an energy-optimised manner using Dynamic Load Balancing. The energy required is dynamically distributed and controlled among the vehicles being charged.
The Wattpilot can already detect when the household connected load is exceeded and reacts to this by giving priority to the loads in the house.
Dream team: PV and e-mobility
E-mobility really makes sense in combination with a photovoltaic system, since the cheapest way to charge electric vehicles is using self-generated photovoltaic power. Plus, the green electricity significantly improves the life cycle analysis.
Fronius India Private Limited
Web : www.fronius.in