Welding solutions in times of skills shortages and resource efficiency
At the SCHWEISSEN & SCHNEIDEN trade show in Essen (September 11-15) Fronius will be focusing on the major driving forces in welding technology. Quality requirements are rising across all industries, but the necessary welding specialists are few and far between. Resource efficiency is also highly important from an economic and ecological perspective, especially when it comes to filler metals, gas, and energy. This means it is essential to avoid production errors and time-consuming rework. Fronius Perfect Welding will be presenting the necessary technology at the leading international trade show for welding technology later this year.
Fronius is extending its welding portfolio to include several solutions designed to counter skills shortages. "Our approach is to use digital tools to help ensure welding quality, reduce material usage, and ensure ease of use and technological assistance – both for beginners and professionals," summarizes Harald Scherleitner, General Director Sales and Marketing, Perfect Welding, Fronius International GmbH. "We carry out research and development with and for our customers. We understand their concerns and are delighted to present all our innovations at this trade show."
Putting people at the center
People and their skills and abilities lie at the heart of all the solutions that Fronius is exhibiting at the trade show. Fronius high-end welding systems offer all the technology you need to create perfect weld seams, but it is only through solid training that welders can learn to produce high-quality welds that rarely require rework and with few rejects. This is where the greatest potential for saving time and resources lies. And this applies to manual welding as well as automated production lines.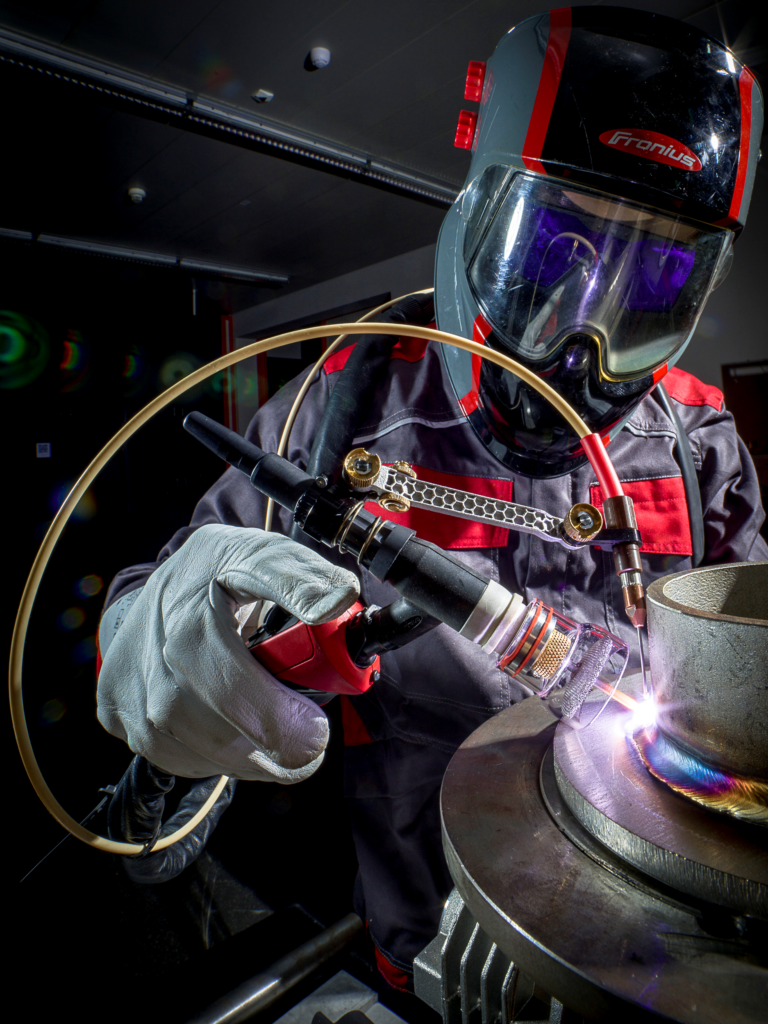 Realistic welder training like never before with the Welducation simulator
The Fronius Welducation simulator takes virtual welder training to a completely new level. Encased in standard welding system housing, it features real welding torches and a realistic representation in augmented reality (AR). The Welducation Campus platform that comes with the simulator facilitates comprehensive quality welder training covering the theory, welding tasks, and knowledge testing. This type of training requires no gas, material, or filler wire at all, making it the ideal solution for saving money and the environment.
Experience it live in action! TIG cold-wire welding – smart and simple
The demo of the new Fronius TIG solution is sure to be one of the highlights of the trade show. The iWave with cold wire feed technology and TIG DynamicWire welding package can help all TIG novices or those with less experience to achieve perfect TIG welds. The dynamic wire control actively adjusts the wire speed to the welding behavior, torch position, and current conditions, allowing users to fully focus on the arc. The process adapts to the welder, not the other way round!
Standardized welding process with the WeldCube Navigator
Alongside excellent training, standardi-zation can help to ensure quality from the first to the last component. The WeldCube Navigator from Fronius marks the launch of a digital tool which standardizes work instructions and simplifies knowledge transfer. Welders are guided through their tasks with on-screen step-by-step instructions, which both increases weld quality and makes familiarization and training easier and faster.
Cobot solutions: cost-effective from batch sizes of 1
Another option in the fight against skills shortages is to free up highly-trained workers from routine work so they can fully focus on more demanding tasks. The CWC-S cobot welding cell from Fronius makes it easy to take the first step toward automation. Compact and easy to operate precisely and intuitively, it delivers reproducible welding quality around the clock. It proves most profitable for small and medium-sized companies (SMEs). The standard equipment includes a Fanuc CX10 iA cobot with a reach of 1,249 millimeters and a payload of 10 kilograms, and a welding table with a working area of 1500 x 1000 x 700 millimeters. Naturally this standard equipment can be upgraded with optional extras if required.
More than just welding solutions
All technical solutions must protect the health and safety of the workers too.
To make their lives easier, Fronius focuses on ergonomics, such as during the development of new quality welding torches. A selection of effective welding fume extraction systems, fresh air systems, and fume extraction torches as well as protective clothing and equipment prevent damage to workers' health and reduce downtime for the company.
Take a look for yourself at the new and proven solutions for quality assurance, tackling skills shortages, and for resource efficiency. The Fronius team are looking forward to demonstrating these innovations at the SCHWEISSEN & SCHNEIDEN trade show in Essen, Stand 3B55, or at the FABTECH in Chicago, Stand C12733.
Fronius India Private Limited
Web : www.fronius.in