Transforming professional lighting system for the better of all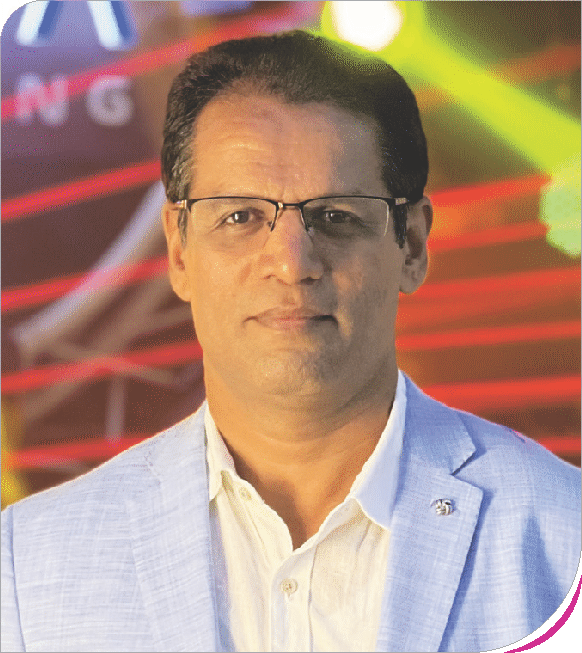 Over all Entertainment and Architectural Beautification Industry is a vast playing field with increasing volume. There is a need for change in thinking, work way and Technology innovation for the future growth. One of the key requirements of this Industry is LIGHTING. From Live, recorded broadcasting to theatre and music festivals, highlighting the architec-tural marvels & adding suitable beauty with various colours to the monuments, LIGHTING plays the most important role. Similar to other technologies, there is a constant demand for dynamic and ever changing professional lighting solutions. But this comes with a little cost, as professional lighting gets less and less affordable. This is where Leksa Lighting plays a key role in quenching the thirst of innovation demanding customer base with affordability with proudly Make in India approach.
From Humble Beginnings..
Established in 2018, in the outskirts of Mangalore a place called Moodbidre, India, Leksa started with very little staff but had infinitely higher courage and enthusiasm. In just 5 years, Leksa has become one of the leading manufacturer and supplier of professional lighting in South East Asia with dominating the lighting scene not just in broadcasting fields such as TV studio, Film and Fiction shoot industries but also in Auditorium, Architectural and many other specialised lighting verticals. In such a short time Leksa has executed projects all over India and also has spread its presence across 20+ countries. Leksa has one of the largest manufacturing facilities in specialised lighting located near Moodbidri, Mangalore with over 240 Employees. Such an astounding growth in the short span of 5 years shows the direction where this company is headed and there's no stopping any time soon. A highly professional team has geared up with one moto "Respect for people and Team work" under the able leadership of Mr. Ronald Silvan D'Souza – Founder and Executive Director an excellent Leader and Team Player with proven professionalism.
Company Mission
The mission of Leksa Lighting is in the very name of it. 'LE' in LEKSA stands for "Lighting Excellence". It is also the company's tagline and indicates Leksa's goal to be a global leader in Professional Lighting Technology. Leading this mission with the dedicated R&D staff, bringing our trademark modern and efficient technology combining with affordability. As a part of this goal, the company strives to be independent with completely in-house design and development of products which reduces the dependency on external resources and gets a better control of the quality and standards of our products. This drive to be an independent & self reliant, is in-line with India's "Make in India" initiative and also helps in achieving company's goals of aiding the growth of local economy, empowering youths, ultimately fuelling national prosperity.
The second part of the name 'KSA' stands for "knowledge shared adequately" – bolstering our mission to educate and share the knowledge to the masses, especially to the younger generation. Leksa has conducted many training sessions on the importance of lighting and the current technology of lighting to many, including the film fraternity and to the students of numerous film & Engineering institutes. It is the company's way of giving back to the society.
Customers – No. 1 Priority
Customers are the reason a company thrives. We at Leksa Lighting acknow-ledge the importance of a satisfied customer and treat them with the respect they deserve. One of the important factors for customer satisfaction is customer flexibility. We achieve this by giving decision making freedom to our frontline marketing employees, so that they can cater in a better way to the customers individual requirements. This results in each customer getting their needs met in a unique way they are most comfortable with.
This is the reason why customers, once they experience Leksa's products and services, never look anywhere else. The company strives to meet every aspect of customer needs individually. Leksa also leads the competition with best in class after sales service.
Customer satisfaction is a process, like any other part of continuous improvement. For this reason we reach out to every customer for their feedback to better understand their needs. This in turn helps us to pluck out out-dated and unnecessary steps increasing efficiency.
Products
Leksa manufactures a huge array of professional lights. Starting with Auditorium lighting, the company offers LED light fixtures from Profile lights to RGBW par lights with seamless control of every single light using various wired and wireless control systems. The company also gives a turnkey solution for auditoriums and stages by supplying and erecting stage mechanism systems such as motorized lighting grids, motorized curtain systems, control systems and power solutions in a professional manner.
The company provides a similar turnkey solution for TV Studio lighting by providing state of the art LED Lighting fixtures with control system and rigging system. These light fixtures are also used for film and fiction shoots as they are extremely efficient and abundant in feature sets such as range of colour temperatures, dimming controls, etc., without use of external devices. The light output is of the highest quality suitable for broadcast with CRI, R9 and TLCI values being more than 96 for all our lights resulting in supremely accurate colour reproduction. The light fixtures are also capable to illuminate scenes to shoot in Ultra HD 8K and beyond 10,000 frames per second.
Additionally we also manufacture archi-tectural lights to decoratively illuminate structures ranging from historical monuments to buildings of significance and everything else that requires to be beautified. Leksa has a wide range of lights with any colour of the spectrum and varying beam angles all capable of installing outdoors, withstanding harsh weather conditions and equipped with the same reliable control systems that are used for Auditorium and Studio lighting fixtures.
We also have products catering to DJ/Pubs along with video conference lighting, stadium/sports lighting, street lighting, flood lighting and high mast lighting along with recently started General & decorative clay & bamboo based lights.
Major Projects
One of Leksa's earliest and proudest projects was the Auditorium Lighting and Drapery system installation at Rajagiri School of Engineering and Technology, Kochin. The Project included designing, manufacturing and installation of Stage Lighting and drapery with 210+ light fixtures, 19 motorised bars and complete power solution.
Leksa also got a prestigious opportunity to execute Stage Lighting project at Mahatma Gandhi International Convention Centre, Niamey, Niger. This was a project funded by Government of India.
Puttaparthi Sai Hira Global convention centre stage lighting and Façade beautification lighting is done by Leksa, which was innagurated by Respected Prime Minister Narendra Modiji.
3000 Seater St.Xaviers complete auditorium lighting in Bhubaneshwar is a another great job by Leksa. As on today Leksa has completed more than 100 auditorium stage lighting.
TV studio lighting has been Leksa's stronger suits – more than 70% of Indian Broadcasting Industry opts for Leska lighting products today. Some of the most popular News studios in India are lit with Leksa Lights – Aaj Tak, Times Now, Tv9 Bharatvarsh, Tv9, TV18, Asianet, Suvarna News, Public TV and many others to name a few. Leksa has also executed studio lighting projects in Sri Lanka, Tanzania, Bangladesh, Kenya and Canada.
Leksa has also supplied LED lights to many TV shows for Sony TV and Star Network. The company is a pioneer in introducing LED lighting to the Film and Fiction industry replacing all the conventional halogen and HMI based lighting. One of the most popular Pubs in Hyderabad, Andaman & Raipur are lit up by LED pixel & other lighting from Leksa.
Another segment Leksa is one of the leaders is Architectural Lighting. Company has executed the façade Lighting project of Kalinga Hockey Stadium, Bhubaneswar, which held a world cup hockey game. Another popular stadium beautified with Leksa Lighting is the Jawaharlal Nehru Indoor stadium in Cuttack. Leksa also executed a monument lighting project under CIDCO – Navi Mumbai, the dynamic lighting of Utsav Chowk at Kharghar. The company has dipped its toes in Fountain- light and sound show in one of our most ambitious projects, the Dr. Shivaram Karanth Theme Park at Kota, Karnataka. Recently completed Birla Mandir in BITS campus Goa, with a huge appreciation from Mr. Kumara Mangalam – Owner of Birla group.
Thane Municipal corporation is beautified with Leksa lights and India's biggest LED Garden – Atal Bihari Vajpayee Udyan in Pune under PCMC, Gate way of India beautification and many renowned prestigious projects have been completed successfully by Leksa Lighting.
Major13 skywalk lighting in Mumbai speaks the quality of work. More over Asia's biggest Church – Christu Jyothi church lighting in Warangal with 30,000 seating capacity speaks the expertise of this company.
Like this over 300 projects completed by Leksa lighting in a very short span of 5 years. It speaks the professionalism, vision and leadership quality of Mr. Ronald D'Souza who is heading from the front.
Milestones and Achievements
Such a short span he bagged many awards, like:-
"Fastest growing Indian company excellence award" in Dubai in 2018,
"Manufacturing & customer satisfac-tion award" in Bangkok in 2019,
Best 5000 MSME company award etc speaks the achievements in Tough conditions.
In 2022, Leksa Lighting got a prestigious ATMA NIRBHAR BHARAT award from Central Govt as "Most Trusted company in specialised lighting" under Make in India initiative under his leadership.
Leksa Lighting Founder and Executive Director Mr. Ronald Silvan D'Souza is recognised as one among "Top 50 highflyer global Indians" for the year, for his outstanding achievement being an young entrepreneur, giving livelihood for 240+ families from this village.
Silicon India start-up city has Shortlisted 'Leksa Lighting' as One of the Top 10 Emerging Electronic Brands – 2023
Conclusion
With our unprecedented growth in this competitive market, not only have we shown our hunger for excellence and success but, our will to go beyond the current industry standards of professional lighting. As Leksa Lighting is completing its 5 years, Leksa is all set to go in a big way by introducing new business verticals as well. Employee satisfaction and customer satisfaction is the utmost consideration of the management. Keeping in mind Leksa lighting has launched various programs and it is all set to move forward in a very big way.
Leksa Lighting Technologies Pvt. Ltd.
Web : www.leksalighting.com