How Jogani waterproofing mesh enhance the life of your waterproofing and save huge money on regular repair and maintenance?
When it comes to searching for the best waterproofing methods in India, professionals and construction companies look no further beyond -Jogani reinforcement Fiberglass Mesh. The company is currently considered the industry leader in providing international grade Alkali Resistant ARACC Coated waterproofing mesh.
Although the reinforce-focused company is delivering the best Fiberglass Mesh products in the market, the demand for its waterproofing mesh, in particular, is breaking all records in the industry.
It is a fact that one of the most critical yet neglected concerns in the construction segment is proper waterproofing. Water intrusion or leakage in your home or office can be stressful, whether new or old construction. Excessive moisture can severely hamper the foundation of a structure, rot away beams, and cause health hazards. Pests, bugs, and molds can enter through cracks and undermine your property. Hence using proven and effective waterproofing with Jogani waterproofing mesh can be a game-changer. Jogani Waterproofing mesh is offering protection against cracking, leakage, seepage, damage, or fraying.
Jogani Waterproofing mesh is a miracle material for waterproofing work. It enhances ductility and durability of waterproofing. This high quality waterproofing mesh is made using the advanced leno weaving method, then coated with alkali-resistant acrylic glue, and finally treated by high-temperature heat finishing.
Using Jogani's high-quality fibreglass mesh can enhance the life of your waterproofing system.
Jogani fibreglass mesh is highly lightweight, flexible, high strength and easily malleable compared to aluminium or steel. Moreover, it does not burn and shrink.
Available in multiple sizes, it can be used in several waterproofing applications in the most difficult and demanding areas of construction- be it a simple concrete roof, terrace, balcony, RCC masonry joints and concealed areas.
Jogani reinforcing glass mesh creates a barrier that not only seals the interior as well as the exterior surface but is resistant to cracking.
Jogani Reinforcements' Fiberglass Mesh provides additional reinforcement. It is further used for thermal insulation and crack resistance in the building segment making it best friend of waterproofing works.
The versatile material can withstand high loads as it distributes stresses and strains evenly across the surface. Hence it can give excellent results under considerable mechanical/seismic stress.
The easy-to-use Jogani waterproofing mesh is economical and compatible with all commercial coating materials available in the market.
Jogani Reinforcement waterproofing mesh is easy to cut as per site requirements, high in tensile strength. It is resistant to alkalis, salts, and acids, making it a perfect choice for wet applications such as pools, tanks, rooftop gardens, etc. Most importantly, this revolutionary waterproofing mesh can be cut to size with a knife or scissors. No expert labour is required. This premium fiberglass mesh has been formulated so that once applied; it will give prolonged protection to any surfaces from rain, heat and cold conditions.
Joganireinforcement is also serving many high-performance engineering fabric products and solutions like fibreglass mesh, engineering fibers, carbon fibers, and basalt reinforcements that have the ability to eliminate many problems such as leakage, cracks in frames, etc. Overall, the top-rated industrial reinforcement company offers products that will enhance the durability and sustainability of a building. Huge saving on regular repair and maintenance cost and saves hard earn money.
The company's budget-friendly International grade construction joint mesh available as plaster/ fiberglass mesh rolls for controlling cracks in construction joints, and concealed areas, come in a tamper-proof packaging box- first time in India.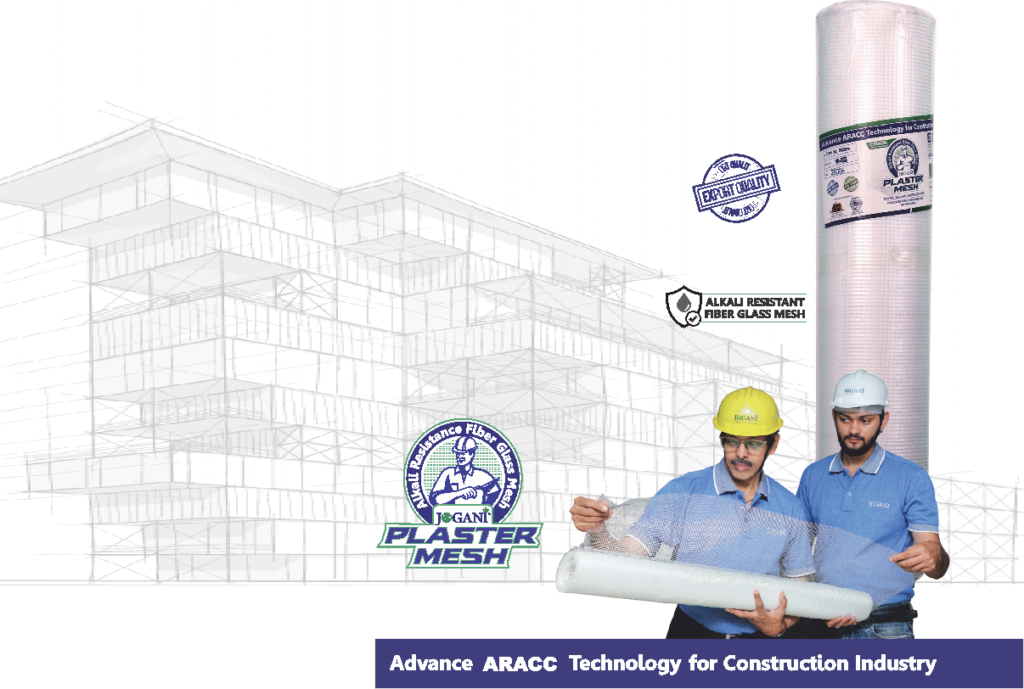 To explain the rising demand for Plaster mesh, the CEO of Jogani reinforcement, Mr Mahesh Kumar says, "Increasing demand for affordable and energy-efficient housing, coupled with the growing urbanization trend, has made customers use numerous reinforcement products for Construction Joints Reinforcement, Structural Repair and Rehabilitation, Crack Control and Durability Improvement. Our brand's mission is to provide economical and user friendly solutions to high quality residential and commercial construction in India. The reason we have curated a suite of product catalogues made from PVA, Carbon, Basalt, AR Glass, and natural fibres having huge potential for engineering and reinforcement use." The Jogani Group runs on research and innovation strategy that allows them to address the market's needs, anticipate future needs and shorten development time for new economical offerings.
Visit : www.joganireinforcement.com