A fast and durable waterproofing injection solution for leakages
Seal leaks as fast as they appear
The significant advantage of DE NEEF® products is that they are easy to use. They aren't diluted and can be applied quickly and reliably. The portfolio is mostly based on durable, long-lasting, single-component, closed-cell, hydrophobic polyurethanes. DE NEEF® has become the world's most trusted brand.
Solutions for every leak
DE NEEF® has a variety of formulations for several different applications:
For owners who need to repair and maintain buildings and infrastructure projects,
For contractors who need to shore up deep foundations during excavation,
For installers and applicators who are charged with specialised leak repair.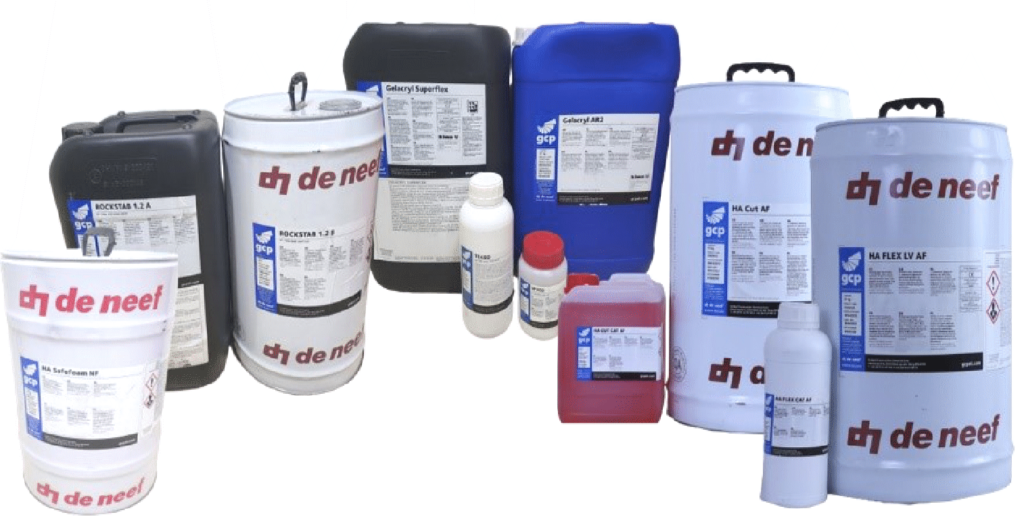 Solutions for every structure
Concrete or masonry-no matter which type of construction, DE NEEF® can fix the leak. From ground-breaking through completion, DE NEEF® products can be used for soil injections, water control, and remediation. Solutions from DE NEEF® solutions can also be used during excavation or tunnel boring. DE NEEF® products can be used in every stage of underground construction.
DE NEEF® HA CUT AF
Next generation, non-phthalate closed cell, I-component, high performance, low viscosity, hydrophobic, hydro-active, rigid polyurethane injection grout for cutting off gushing water leaks with a high flow rate and/or high hydrostatic pressure.
DE NEE-F® HA FLEX SLV AF
Next generation, phthalate-free, closed cell, I-component high-performance hydrophobic, hydro-active, flexible polyurethane injection grouts for waterproofing leaking joints and cracks.
DE NEEF® HA Safefoam NF
An environmentally friendly, phthalatefree, low-viscosity hydrophilic polyurethane injection resin designed for moving non-structural cracks.
DE NEEF® Gelacryl Superflex
They are 2-component poly-acrylate gels. The component is a poly-acrylate resin, and the B-component is a polymer blend. The 2-components are injected with a 2-component 1:1 ratio piston pump. Once polymerised, Gelarcyl Acrylic Rubbers form a resilient, highly elastomeric gel.
DE NEEF® ROCKSTAB 1.2
Phthalate-free, fast-reacting, 2-component, pre-catalysed, rigid foam polyurethane injection system for structural injections requiring high compressive strength.
The fastest, most durable, and most effective leak sealing solution The DE NEEF® portfolio provides waterproofing injection solutions that stop leaks under any circumstances and in any application:
foundations, infrastructure, and more. Nobody plans for a leak, so when one occurs, it usually represents a cost overrun and a setback for a construction project. The ability to quickly and permanently stop a leak in any part of a building is thus invaluable.
Supported globally but available locally. No two leaks are the same—the only thing any two have in common is that they must be fixed as quickly as possible. The DE NEEF® portfolio offers solutions for all possible leak sealing and soil injection challenges. With local availability, there's no waiting for the product to arrive—DE NEEF® is readily available.
Riddhi Enterprise
Web : www.riddhienterprise.store