SUNVIK STEELS: A Role Model in Certified Green Steel Manufacturing
Please let us know the journey of Sunvik Steels?
Sunvik Steels Private Limited was founded in 2003 near Bangalore in Karnataka. It is regarded as the first fully integrated steel plant in the region spread across more than 80 acres. Sunvik has extended its commercial footprints in Karnataka, Tamil Nadu, Kerala and Andhra. We endeavour to create value and be recognised as a worldwide steel industry leader by focusing on innovation, technology, sustainability, and people.
Since the inception, Sunvik Steels has been focussed on quality and we have perfected the optimal amalgamation of cutting-edge technologies backed by empirical expertise and a desire to give our customers immaculate service. Our formidable reputation has served as a testament to our quality. We make use of cutting-edge German technology and always continue to upgrade our systems and process. Recently, we were awarded the GreenPro Certification for our sustainability measures.
Being Sunvik Steels is a Green Concept Company, Can you elaborate the same?
We have been working towards green and sustainable measures from the early stage of our operations. We are taking care of the solid by-products coming out of the plant furnace and steel melting division to manufacture Flyash Bricks and Blocks. We are generating 10MW of power from our Waste Heat Recovery Captive Power Plant. In addition now we have set up Wind and Solar power plants generating further 13MW of electricity for captive consumption. Our Biogas plant provides fuel for the canteen operations at our manufacturing plant. We are aiming to be 100% reliant on renewable sources of energy. We have adapted various measures to reduce-recycle-reuse our solid, liquid and gaseous resources to keep operations clean and green. It is a continuous journey and doesn't stop at the GreenPro certification. We have and will continue our contribution to the environment and sustainable Steel manufacturing as an industry pioneer. Currently, Sunvik Steels if the only company manufacturing certified Green Steel in our region.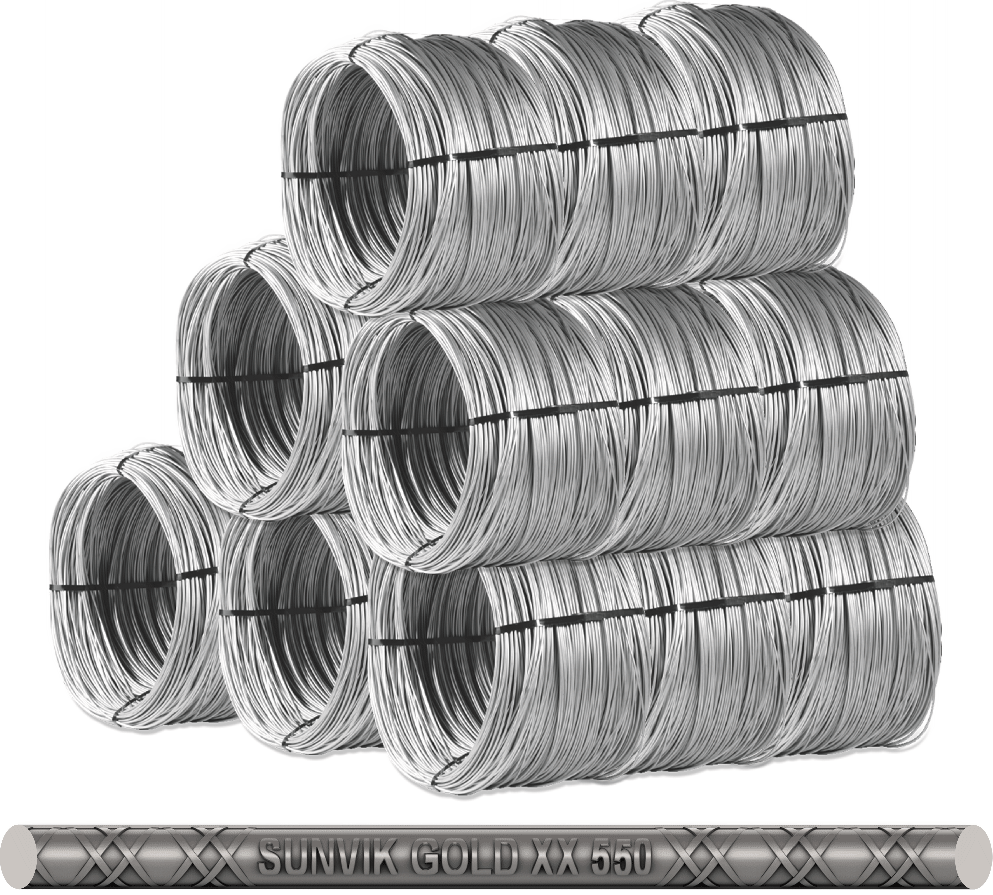 Does Green Steel TMT bars and Normal TMT bars differs?
The conventional steel manufacturing industry makes maximum use of fossil fuel and power generated through non-renewable sources of energy which in turn affect the environment due to massive amount of carbon dioxide released in the process. Still around 75% of the steel manufacturing plants across globe are using coal-fired blast furnaces which is responsible for large amounts of carbon dioxide release in the atmosphere. Overall the steel manufacturing sector accounts to around 8% of global carbon emissions. The ill effects of high carbon emissions on the global environment are quite obvious.
The Green Steel is manufactured reducing the dependency on fossil fuels for heating and electric power requirements. At Sunvik almost 85% of the power requirements are met by renewable sources and on top of that we reduce-recycle-reuse all our solid, liquid and gaseous by-products generated during the steel manufacturing process. We have upgraded the technology, machines and appliances deployed at the factory to make them more energy efficient. This is our way of minimising the carbon emissions. Thus we are able to produce Green Steel TMT bars by minimising the carbon emissions. Though producing Green Steel comes with a cost but we have taken firm steps to put Nature First and working as a role model for others and educating the masses on turning towards Green Steel for their requirements.
Green Steel Concepts Seems to be new for the market. What are the Strategies used to make the awareness in the market.
Rightly mentioned, the awareness about Green Steel is still at the bare minimum level. It is mainly because still most of the steel is manufactured by conventional methods and that is readily spread across in the market. We have consciously started Sunvik Sarathi programs to educate the people related to construc-tion and even the property owners who plan to start construction about Green Steel and its advantages so that they can make an informed decision when they have a choice to choose from a Green Steel TMT bar and a normal TMT bar.
Where can we find Sunvik steel 3 years from now?
We keep these four goals in mind when it comes to delivering the best of Sunvik Steels through our TMT bars.
To integrate the pursuit of "quality" within the organisational architecture.
To exemplify 'Quality' in all of our acts, which includes our earnest efforts, intelligent direction, and expert execution of products, clients, vendors, and staff.
We are focused on reinforcing our strengths through increased quality achievements while maintaining environmental requirements.
To contribute to the environment and become 100% sustainable steel manufacturing company.
Sunvik is well-known for its TMT bars and Flyash Bricks & Blocks Products. Are any new products in pipe line for market?
The market recognizes Sunvik as a strong brand which stands for quality and service. We enjoy the support from all category of professionals in the construction fraternity. We are launching MS Wire Rods and HB Wires now to cater to the B2B needs. The "Make In India" push by the government has charged up the manufacturing sector and spurred the demand for semi-finished industrial steel which can be used as an input for manufacturing other products. Wire Rods are in a huge demand by the MSMEs in the manufacturing sector due to its wide applications. We already had the integra-ted steel plant so it was easy for us to foray into Wire Rod manufacturing. We wish to expand our Wire Rod division to produce various types of Wire Rods to cater to all types of industrial requirements.
Sunvik Steels Pvt. Ltd.
Web : www.sunviksteels.com