Engineered for Tomorrow
Please brief us the recent status of Construction & Engineering market in India?
Indian Construction & Engineering market is one of the largest in the world. India's construction industry and mining activities are rapidly growing, leading to an increased demand for crushers, feeders, and screeners. Companies are also diversifying their product offerings by introducing advanced and innovative crushers, screeners, and feeders in the market. Government plans to monetize assets of worth US$ 3.68 Bn in the mining sector over 2020-25 with the ease of doing business in minerals.

Manufacturers are continuously investment in research and development in order to roll out equipment with advanced technology in order to meet the growing dynamic demand for various end use industries.
The construction industry is growing at a healthy annual rate of more than 8% and it is expected to grow in similar manner in the medium term. There has been a constant push by the government to build world-class infrastructure in the country which will translate into more demand in the construction segment and related industries. The National Infrastructure Pipeline (NIP) is a true indicator of what we can expect from the market in the near future.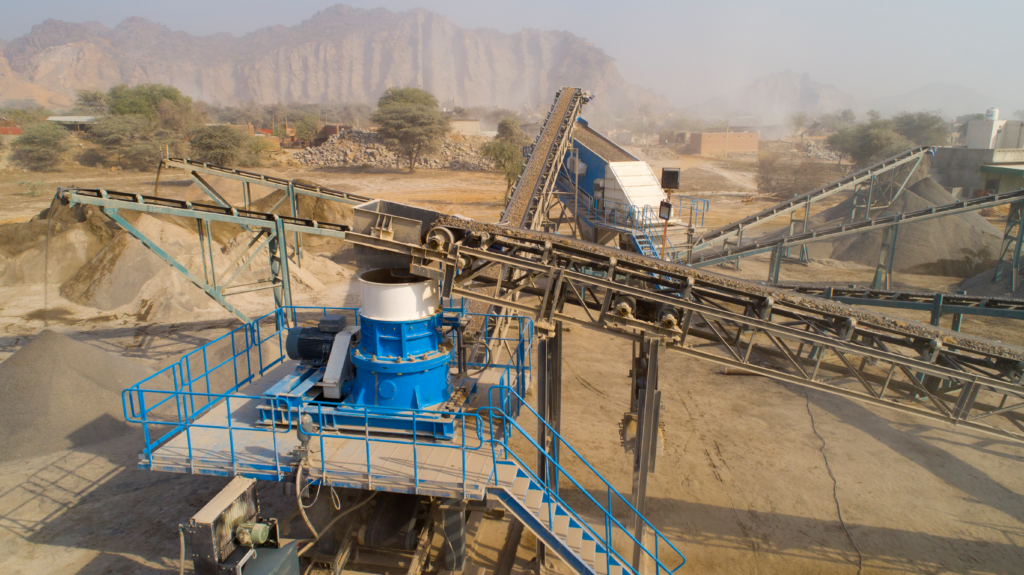 India's GDP growth rate has bene between 6%-7% in the last few years and despite the fear of a global recession, analysts have only marginally reduced the GDP growth rate expectations for India. We have improved our exports and India has emerged as a strong player on the global stage. The world is looking up to us.
With a stable government at the center, we can only expect it to get better. There may be some level of sluggishness in the market with the elections next year but it should be temporary. The overall sentiment is positive in the market.
How competitive is the market?
Indian market has always been very lucrative for global players. In today's times, the Indian market has become very competitive in terms of constantly evolving customer's choices. The market offers something to everyone which means that now there are a lot many manufacturers to cater to customer's demands. The market is purely customer driven and is no longer a sellers' market. The customers are now tech savvy and well informed, the manufacturers are under constant positive pressure to think a step ahead of competition and offer best solutions to the customers. With the entry of many global players in the Indian market space, the competition has intensified and customers are the ultimate beneficiaries of this healthy competition. New age customers understand quality and they are very vocal about it.
We at thyssenkrupp Industries India Pvt. Ltd. believe in "Customer First" approach. We are a customer driven organization and our business strategy revolves around our customers. At one hand, we'd like to hold on to our loyal customers by offering them the best quality services and product upgrades while on the other hand acquire new customers to increase our family size.
Is there any kind of Sluggishness in the demand?
India has a large infrastructure development plan in the works, with several projects aimed at improving roads, railways, airports, and ports. These projects are expected to drive significant demand for crushed stone, sand and gravel, which will drive demand for crushers, screeners, and feeders. The demand for crushers in India has been driven by the growth of the construction industry, which has been spurred by the Indian government's focus on infrastruc-ture development. For instance, Under Budget 2023-24, capital investment outlay for infrastructure is being increased by 33% to ₹10 lakh crore (US$122 bn), which would be 3.3% of GDP and almost three times the outlay in 2019-20.
Currently the market is growing at a satisfactory pace and the order books are healthy. Any kind of sluggishness as of now will be temporary and will have a spring-board effect as the deployment of plant and equipment is the need of any project.
What are the advantages of your Products & Services offering?
thyssenkrupp Industries India Pvt. Ltd. (tkII) is an engineering specialist having businesses ranging from Mining, Energy, Sugar, Cement Plant and Machinery and Services. Recently we celebrated 75th anniversary of establishment of thyssenkrupp Industries India Pvt. Ltd.
Mineral and Aggregate Crushing Systems (MACS) forms a part of Mining Division having two state of the art manufacturing facilities at Pune and Hyderabad.
We believe that our customers are at the core of our business and they are also our brand ambassadors. A satisfied customer can help us increase our business multifold and therefore we ensure that there is no compromise in the quality of our equipment and services. Having our own technology and manufacturing facilities ensures better control on quality. This combined with our experience over years in design, manufacturing, procure-ment, project and site management ensures that we meet the expectations of the customers and ensure customer satisfaction. Thus we are well equipped to successfully meet customers' expecta-tions in the most satisfactory manner.
thyssenkrupp MACS ensures more productivity per kilowatt with its robust and Heavy Duty design. Our Premium Quality products deliver more tonnes per minute thus ensuring more profits for our customers. Our structures are heavy duty and last very long withstanding heavy mechanical vibrations. Our customers enjoy the advantage of reliability with low cost of production as our equipment are designed to consume lesser power with more output per minute.
Any recent technological marvel in your segment which you would like to share with us.
Current age is the age of information. With the changing business environment and emergence of information techno-logy, the customers are more informed than ever. This has also made the Equipment Manufacturers to constantly innovate and make their equipment more reliable and efficient. Customers are no longer looking for the cheapest option. They want reliable and feature rich equipment with best in class quality at a reasonable price. Today's customers are ready to invest in quality and premium equipment as it gives them peace of mind. Quality is a mindset which requires investment in people and processes. Reliability comes from the know-how of engineering and the implementation of it in the products. thyssenkrupp MACS offers just the same. Our product development teams are constantly working on adding new features to our products to provide more benefits to our customers. Our products are best in quality and reliability thereby minimizing mechanical breakdowns and ensure more productivity per minute.
thyssenkrupp Industries India Pvt. Ltd.
Web : www.thyssenkrupp-industries-india.com