India an Important Market for TOPWERK
How do you see the mindset of the Indian construction industry changing towards precast technology?
Precast Technology is a relatively new technology in the Indian construction industry. There have been a lot of debates and discussions about the benefits of this technology over traditional ways of construction. In India, this alternative technology has been under discussion for differing compulsions such as labour availability, construction quality, cost, productivity, volume of work, etc. These factors have resulted in an inflection point, wherein it is increasingly becoming imperative to change the traditional ways of construction.
The global Precast Concrete market size surpassed USD 116 billion in 2020 and is anticipated to grow at over 5.6% CAGR from 2021 to 2027. The market revenue is likely to be valued at USD 134 billion in 2023 and is forecasted to exhibit a revenue growth of USD 234 billion by 2033. Rapid urbanization and infra-structural growth have continuously encouraged urban construction projects, stimulating industry growth.
What growth prospects do you see in the precast industry in India?
The traditional construction methods in India need to be improvised by using modern tools and technology that can improve the quality and speed of con-struction while using minimum resources like manpower, materials, budget etc. Today, there is an increasing utilization of precast concrete products not only in residential and commercial projects but also in infra-development projects like tunnels, bridges, over bridges, flyovers, underpasses/ overpasses, etc; many RCC structures are being done in precast, including segmental box girders or U-girders, piers, and pier caps, etc.
The efficiency of precast concrete construction technology has been proven since the last 50 decades in developed countries and regions. In India, which is a developing country, there is a dire need to fulfil a huge demand for housing, commercial buildings, and infrastructure. To achieve this, the Indian construction industry needs a method of rapid construction technology like Precast Concrete. Currently, the application of precast technology is only 2% approx. of the total Indian construction industry, and is limited to the construction of infrastructure projects like metro and monorails, bridges, etc.
What are the benefits of using precast over conventional construction systems and how does precast support the green movement and cost-effectiveness?
Precast concrete is often stronger than cast-in-place concrete. Not only are precast concrete products already reinforced with steel rebar, but the controlled curing process also ensures that the concrete will be set correctly under ideal conditions for maximized strength. Precast concrete can also be stress-tested before being delivered to the job site. There are many advantages of using precast concrete:
Cost-effective
Superior quality
Reduces overall construction time
Can use prestressed concrete
Enhances safety at construction site
Highly durable
Promotes sustainable construction
Enhances project efficiency
Increases project control
Versatile
Aesthetically pleasing
Safe construction
Precast concrete is truly a sustainable green product; it is highly durable, and uses an extremely low water-cement ratio. Due to their sustainability and the above-mentioned benefits, precast concrete products are being chosen for builders keen on LEED-certification for their projects. The carbon that is produced during the manufacture of cement is offset by the minimal maintenance costs, lower heating and cooling costs, and the concrete re-absorbing up to 40% of the carbon over the structure's life. Cement consumption is reduced by a third per m3 of concrete because the compaction process in the plant is much more effective. Even steel consumption is lower because it is prestressed before concreting, so about 10 to 15 kg less steel is needed per sq.m. of the hollow core.
Despite its advantages, precast techno-logy is still not popular in India. What needs to be done to make it more attractive to developers, builders, and consultants?
The application of Precast Technology is very effective in executing large- scale construction projects like housing, commercial, institutional buildings, etc. It is also very efficient with respect to saving time, lesser requirement for manpower, better construction quality, less wastage of materials, flexibility in executing the design parameters for facades etc.
However, it is mainly the smaller develo-pers and builders who are resisting this technology. It could be because of lack of awareness of its application and benefits or the initial higher cost of construction. Another concern is the standardization of the various components of precast concrete and its joinery details, which need to be established through IS codes. The distance of the construction site from the component manufacturing units, entailing transportation costs, is another deterrent for the adoption of precast technology.
Though the initial investment for establishing a precast yard is very high, developers and builders need to look at the speedy construction precast construction enables, which mitigates delays in large scale construction projects, allowing them to start earning revenue sooner.

How is your company addressing cost issues in the price-sensitive market of India?
The TOPWERK GROUP is reputed for the durability and reliability of its plants and machinery. Following the same tradition, we maintain a fine balance between quality and pricing for the Indian market. Our local vendors provide cost-effective products of high quality. These undergo three levels of quality checks: the first is by the vendor, the second by our company, and the third from an international rating agency. Our quality control and project engineers monitor day to- day progress at our production unit.
How is IoT/Digitalization in production units and machineries helping in controlling cost and improving the efficiency, productivity, and safety of construction machinery?
The digital revolution is changing the way we live, work, and communicate fundamentally and with increasing speed. The TOPWERK GROUP actively designs new working conditions for the building materials industry together with our customers. The focus here is on ensuring product quality and automating the manufacturing and production processes. Our goal is not only to meet the highest demands worldwide but to exceed the expectations of our customers.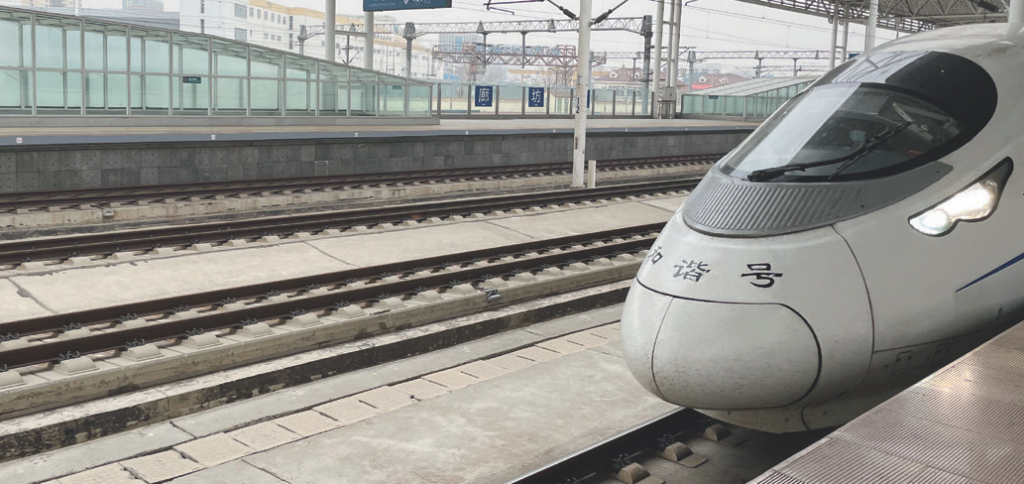 We at TOPWERK want to use the positive effects and the new possibilities of digitization in a sustainable and value adding way, for more efficiency, more production output, and an increase in the quality of work for our customers. In order to maintain and expand our status as an innovative industry leader, the company started series of projects to continuously increase the degree of digitization of our machines and systems.
Smart Vision solution from HESS GROUP: With this digital innovation, one can carry out an efficient and precise analysis in cooperation with a helpdesk employee by means of image transmission through digital glasses. With the Add-on Mainte-nance, you have the option of having your maintenance instructions displayed directly on your glasses by scanning a QR code, so that you can fully concentrate on the maintenance work.
Web-based visualization of PRINZING PFEIFFER: Web based visualization of the production statistics for pipe and manhole machines is currently being developed. Through this, all relevant data can be called up via a web browser and displayed on smartphones, tablets, and PCs, sorted by location, linked systems, and individual machines. This helps you to log important parameters such as machine performance, availability, downtimes, and waiting times.
HESS AAC SYSTEM: This is a system extension that displays real-time operating information of your machines; it is currently being developed. With this function, you can quickly get an overview of the status of your machinery which will help you to optimize various processes such as maintenance, machine perfor-mance, and availability.
We are constantly developing and integrating "preventive and predictive maintenance methods" in our digital systems such that they can provide forward-looking and preventive tools designed for maintenance and care of the systems. The aim is to minimize machine downtime and reduce overall cost.
What are the practices/technologies being developed in your plant to reduce wastage and to preserve or recycle usable materials and reduce/ eliminate carbon emissions?
TOPWERK GROUP has adopted the following strategies for adaptability, disassembly, and reuse:
Developing an adaptation or disassembly plan with key information (e.g., as-built drawings, materials, key components, structural properties, and repair access and contact information).
Using simple open-span structural systems and standard size modular building components and assemblies.
Using durable materials that are worth recovering for reuse and/or recycling.
Minimizing the use of different types of materials and making connections visible and accessible.
Using mechanical fasteners such as bolts, screws, and nails instead of sealants and adhesives.
Planning for the movement and safety of workers to allow for safe building adaptation, repair, and disassembly.
How is establishing a local sales and service center in India helping the company in intensifying contact with its existing and new customers? How important is this move in the Group's global growth strategy?
TOPWERK GROUP has a worldwide presence with a total of 11 subsidiaries with TOPWERK INDIA as one of the important establishments. This way we are closer to our existing and potential customers in the SAARC region. We are in direct day-to-day communication with customers and offer local service and spare parts support. As stated earlier, we have started localization of non-critical items to bring down the manufacturing cost and avoid imports and transportation costs. We are providing engineering services and software/ hardware support to our group companies and have plans to export some accessories to our worldwide customers.
TOPWERK India
Mob : +91 9311911530