Dextra GROUTEC Coupler – UniqueSolution for Reliable Joints in Precast
In customer centric, innovative and custom engineered product portfolio of Dextra, there is yet another efficient product which has been qualified and tested successfully over the years on several major infrastructure projects.
Thanks to the gaining momentum in Precast industry in India in the recent years, that we see there are several applications of precast construction method, whether it be a residential or commercial buildings, data centers, process plant pipe racks, mass housing project and so on.
One of the key factor contributing to the success of Precast construction is connection joints and that's where Dextra Groutec Coupler plays important role.
Features :
Groutec is a mechanical splicing system specially designed to connect two precast elements with no requirement for in-situ wet concrete join.
It is designed and manufactured in compliance with Eurocode 2, BS 8110, ACI 318, IBC and AASHTO.
It is available in 3 different varieties namely –
– Groutec L – Large Tolerance meaning allowing larger axial
– Groutec S – Slim Body meaning facilitating slim column & panel
– Groutec F – Fully grouted meaning no threading required on rebars.
It can be used with non-shrink grout easily available from major manufac-turers.
All couplers are marked with code to trace information like material certificate, inspection & test reports, mould number etc
The design files are compatible with CAD & BIM tools.
Pipe Rack Application:
Pipe racks are a convenient way of routing overhead piping. It is a very popular solution in the oil and gas industry to support the pipes carrying various gases and liquids. Owing to the high cost of steel construction, even more added by fireproofing requirement & increased time, precast concrete pipe racks is the talk of the town in process plants. The superstructure of a pipe rack is mainly composed by columns and traverse beams, making prefabrication the ideal solution for fast and inexpensive construction and installation.
Case Study – RIL Jamnagar Refinery :
Execution Methodology :
In this project, Groutec couplers were specifically used to connect precast elements vertically compo-sing the H frames of the pipe racks.
The couplers were installed on the reinforcement bars in the precast yard itself.
Couplers are then cast in concrete after formwork is closed.
These precast elements were then carried to site where further erection took place. The top element was positioned over the bottom one.
The next step is to pour the grout (Sika grout in this case) in the couplers. When we start lowering the top element, its protruding bars get inserted in to the cavities of the coupler and makes the grout overflow.
This assembly is then temporarily maintained with bracings until the grout is dry.
Couplers were certified by IAPMO which was a mandatory specification in this project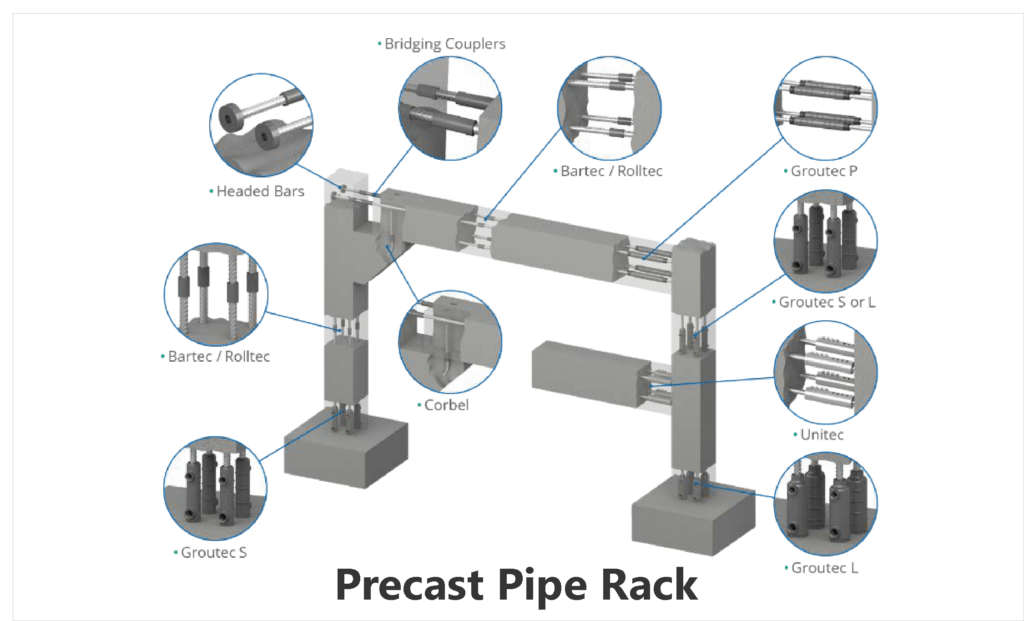 Key Benefits of GROUTEC :
At least 3x faster construction cycles compared to cast in place.
Reduced grout consumption – results in Less man-hours
Safe. Only short protruding bars.
Engineered shape for optimal concrete bond.
Cope with bar misalignment
Dextra India Pvt. Ltd.
Web : www.dextragroup.com