Doka formwork solution delivers one of India's largest cable stay bridges
Doka India has completed work on the 900-metre Dwarka Bridge, providing valuable connectivity within the northwestern region of Gujarat.
Doka formwork and engineering solutions have successfully been used to deliver a 900-metre central cable-stayed bridge, including highway approaches. Spanning a length of 2.5 km, the 29.6-metre-wide, four-lane bridge includes 3.5 km of retaining walls, and a 1.42-kilometre approach on either side. Comprised of a composite deck and pylon structure, the total length between the two pylons stretches 500 metres, making it the largest span of any cable stay bridge in India. With the overall structure suspended by 76 cables, the most challenging aspect of the project was the design of the pylons which are curved along a vertical structure, at an angle of 20.1 degrees at the centre, 22.6 degrees to the left and 19 degrees to the right. As such, the formwork solution required a significantly tailored approach,
while adhering to the strict engineering requirements of the completed structure. Based on its knowledge and in-depth proposal, Doka India was awarded the contract to deliver a formwork solution for the two, 'A' shaped composite pylons, each reaching a height of 130 metres and located in the open water of the Gulf of Kutch. This challenging project was designed by Yogesh Patil, Doka India Group Leader Engineering and Pramendra Singh, Doka India Project Engineer. The Doka Formwork Instructor team, Ash Narayan Singh and Bijaya Kumar Swain were not only able to find a solution that met the project's requirement, but furthermore enabled the onsite training for other stakeholders to learn and adapt in a safe manner.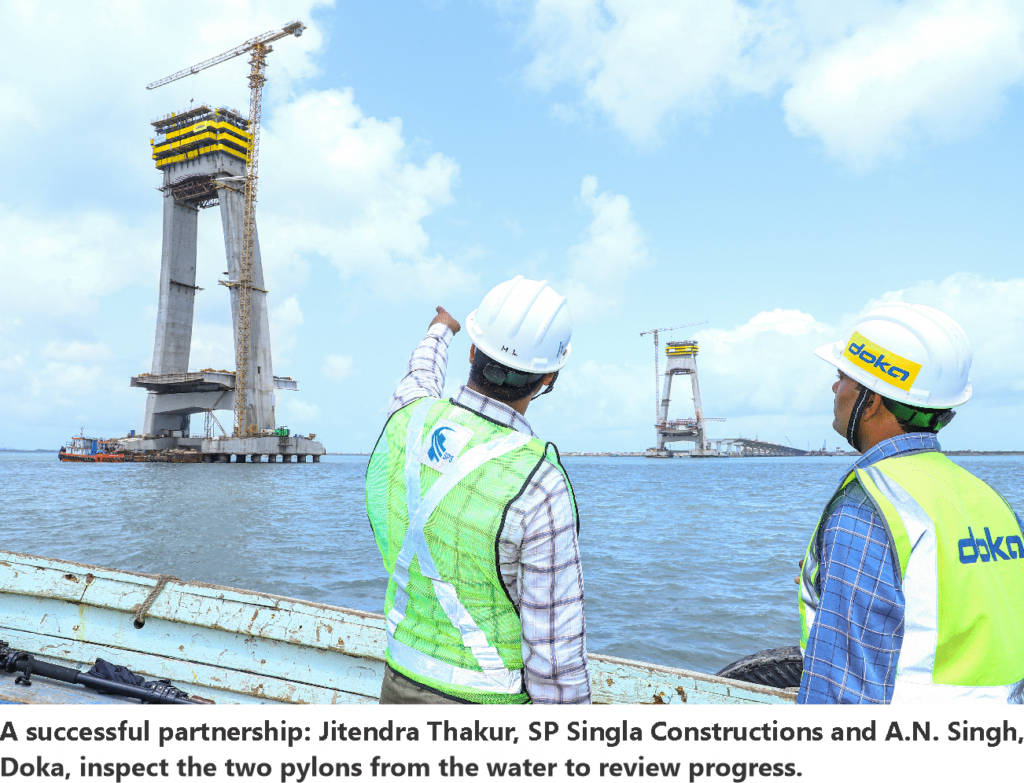 Mr. Singh, commented, "While several of our core products were used in the construction process, our key asset, particularly when it came to the pylons was our Automatic climbing formwork SKE plus. Designed to be completely crane-independent, and fully modular, we were able to work around the unique and complex shape of the pylon, while remaining protected both from the weather and height. As a fully hydraulic system, it also meant that a lot of time could be saved during repositioning."
As part of the project's product solution, Doka's SKE50, SKE100, SKE100 plus, Top 50 and Shaft Platform were used throughout in order to support the timely execution.
Speaking on behalf of the contractor, SP Singla Constructions, Project Manager, Mr. Devinder Singh said, "We've been particularly impressed with the work carried out by the Doka team, who has done a wonderful job by designing and guiding the formwork installation for our curved pylon, while simultaneously providing the technical support that has helped to reduce the overall time of each cycle. Thanks to this efficiency, and the diligent training provided to our engineers, foremen and team on site, we've managed a smooth and safe operation throughout."
Doka is a world leader in providing innovative formwork, solutions and services in all areas of construction. The company is also a global supplier of well-thought-out scaffolding solutions for a varied spectrum of applications. With more than 160 sales and logistics facilities in over 60 countries, Doka has a high-performing distribution network for advice, customer service and technical support on the spot and ensures that equipment is swiftly provided – no matter how big and complex the project. Doka employs 6,800 people worldwide and is a company of the Umdasch Group, which has stood for reliability, experience and trustworthiness for more than 150 years.
Doka India Pvt. Ltd.
Web : www.doka.com