Prof. A S Khanna
Retd. IIT Bombay, Chairman
Surface Engineering & Coating Consultant

Prof. A.S.Khanna, a retired Professor from the prestigious Institute, Indian Institute of Technology, Bombay, India. He is now Chairman SSPC India, a professional body focusing on Surface Engineering and coatings and Proprietor SECC Lab. Prof. Khanna in his 27 years at IIT Bombay focused his research on Corrosion related topics and Surface Engineering. He has guided 27 Ph.d's and, more than 130 Master's and B.Tech. His research Topics are High Temperature Corrosion, Surface Modifications by laser and thermal spray methods, Organic Paint Coatings, Smart Coatings such as Self Cleaning and Self Healing Coatings and Nano-technology and Graphene manufacturing. He has extensive publication list with more than 180 papers in peer reviewed International Journals, thru' which he has got about 4500 Citations. He has attended several International Conferences and presented papers. He has another hundred papers as conference proceedings and Book Chapters.
Protection by coatings is one of the five methods of protecting a metal from corrosion. The other four methods are : better material selection, anodic/cathodic protection, better design and last but not least protection by inhibitive chemicals. Coming to protective coatings, there is broad classification of different coatings, based upon the method of application: brush/roller, spray method, hot dip, thermal spray, PVD/CVD, chemical conversion, laser surface modifications etc.. Out of all these, the paint coating, appears to be the most trivial method of surface modification. It is usually applied using a brush to give a barrier coating of paint which is generally an insulating coating, and helps in preventing corrosion. However, paint coatings cannot be considered as a very simple technique when applied on industrial systems, where durability and its functionality become very important. There are various verities of paint coatings based upon its utility, purpose and function. In a very simple classification, it can be divided into two main types : decorative and industrial. Decorative paints are usually applied to enhance the aesthetics of the object while industrial paints are mainly for corrosion protection. But there are several new requirements for decorative paints: long durability and stability from UV light, anti-dust, hydrophobic, anti-fungal and anti-graffiti. Thus many decorative coatings require one or more additional features in to serve the purpose of protecting, concrete buildings, flyovers, bridges and multiplexes.
Prof. Khanna has received several Awards. He is Fellow ASM International and NACE International, Life member of Indian Institute of Metals and Society for Electrochemical Science. He is a fellow of Humboldt Foundation Bonn and also of Royal Norwegian Science and Technology and Fellow of Japan Key Centre. He has done post doctoral work at France, Germany and Japan. He has written three books, two on high temperature Corrosion and one on High Performance organic coatings. He has also edited 5 conference proceedings. He has organized more than 25 National and International conferences. Prof. Khanna is also very active socially.

The industrial paint coatings, however, are mainly selected for their strong corrosion protection, strong adherence and strength, chemical stability from polluted environment, acids/alkali fumes, heat etc.. Today many industries require coatings which perform a special function, such as resistance from heat, anti-fouling properties, conductivity and many other functions. There is also special requirement for Smart coatings which perform special action such as self-cleaning, self healing, reflecting solar radiation to cool the surface etc. Another important requirement of industrial coatings is their ruggedness and high performance. For example you need a special coating for application on a splash zone which can be of high chemical resistance, can be applied in high humid environment of RH above 90%, erosion resistance, quick drying, long durability and giving high thickness per coat. One such coating recommended in Indian offshore platforms is polyester glass-flake, iso pthalic coating, which possesses all such properties.
Second best classification of paint coatings is based upon the type of resin [binder] it uses. Based upon the resin type, such as epoxy, urethane, vinyl, alkyd or polyester, it is designated as epoxy coating, urethane coating, vinyl or alkyd, or polyester based coatings respectively. The main components of a paint coating are: solvent, binder, pigment and additives. A proper mixture of all these four makes a paint coating. The paint manufacturing is a simple mixing process where first the binder is added into the solvent and nicely dispersed. It is then followed by systematic addition of pigments and additives till a uniform mixture is obtained. The quality of paint depends upon the types of mixing methods used such as agitation, blending, attritions, bead or ball mill etc.
The paint coatings are of single component or of two components. Single component paints are usually a mixture of solvent, resin and some pigments and additives, while two component paint system have a resin part which is made using solvent, resin, pigments and additives and the second component is called catalyst or hardener which is mixed just before application. The role of catalyst/hardener is to harden the coating with time till it fully dries. This is achieved by chemical reaction between the resin and the hardener, leading to a high level of crosslinking which provides superior anti corrosion properties to paint coatings, especially low permeability and strong barrier protection. For example for epoxy resins, amines or amides are used as hardeners. For two components polyurethane coatings, cynates are used as hardeners.
Another important classification of paint coatings is eco-friendly-ness of paint coatings. As discussed above the main components of paint coatings are solvent, binders, pigments and additives. Based upon the amount of resin in the solvent and pigment and additive concentration, the paint has a volume solid percentage which decides the thickness of the coating after drying. As per the simplest mechanism of paint drying process, the solvent which are mostly volatile in nature evaporate and leave the dried coating on the substrate. Since, the most common solvents are: benzene, xylene and toluene, which are all toxic in nature and hence when they evaporate they pollute the environment and especially affect the health of the paint applicator. Thus, a better paint system is that which either has very low quantity of solvent or uses no solvent or alternative solvent such as water. This results in two additional types of classifications: Solventless coatings and waterborne coatings. There are two additional advantages of solventless coatings: apart from eco-friendly-ness they can give high thickness from 500 to 2000 microns in one or more coats, secondly, several high performance and functional coatings used in industry are solvent less with addition of several pigments such as fibres, glass-flakes which enhance the strength and durability of such coatings and also reduce the permeability of the coating. All these coating classifications are summarised in Fig. below:


Another classification of the coatings can be of its functional action and its smart behaviour. We have several coatings which come under the heading of Smart coatings. These coatings, in addition to doing the normal function of anti corrosion also do a specific function, such as self cleaning, self healing, anti graffiti, creating conducting surface and perhaps many more. The biggest role played to make a coating smart is by the addition of nano-particles or to make a nano-coating.
Nano-technology can play a very important role in coming years, not only to enhance the properties and capabilities of paint coatings but can also help in conserving the paint raw materials, especially pigments and additive concentration. As the name suggests, use of nano-particle pigments and additives provide two benefits : large surface area and optimum distribution, which helps to
save the resin matrix from deterioration by chemicals and intense UV light. Secondly, it also helps in delaying the moisture and pollutants to reach from the surface to the metal paint interface, thus reducing the permeability of the coating and thus enhancing the durability. The optimum distribution of the particles and its shape also helps in enhancing the mechanical properties, especially the tensile strength without affecting the elongation.
Another important aspect of paint coatings is proper application. Proper application includes suitable surface preparation, selection of proper primer, intermediate and top coat which can give high durability in a chosen environment.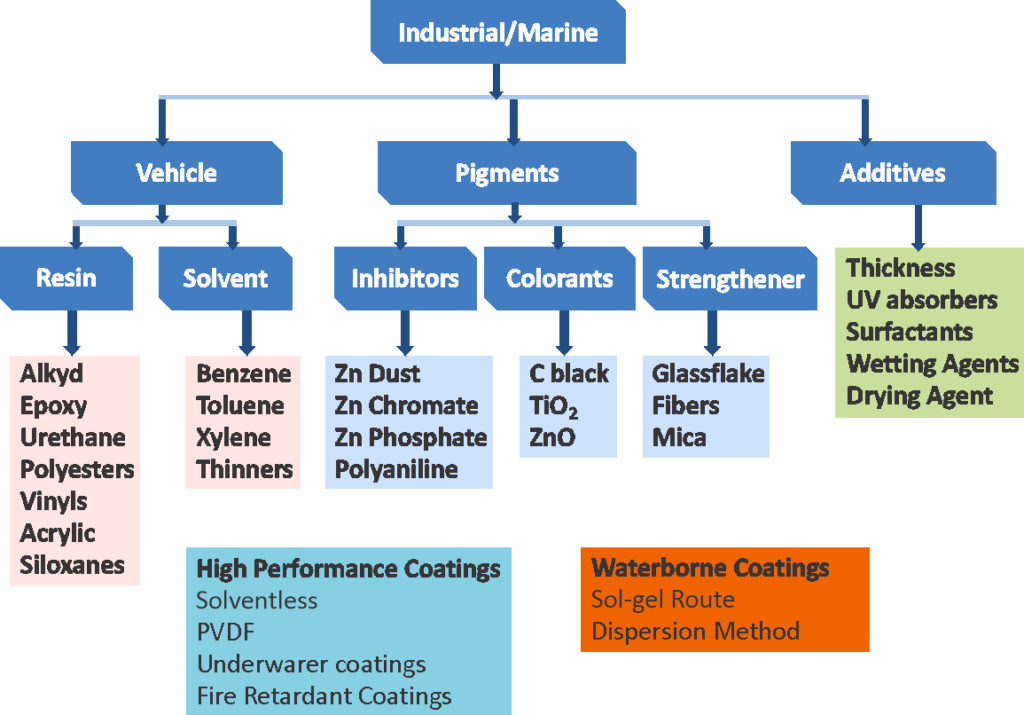 Use of quality assurance and quality control methods with site supervision and daily inspection helps to provide a flawless coating, meeting the paint specified design life. One advantage of paint coatings is that all paint application processes are supported by process standards, which must be strictly followed in order to get best results.
Let me finish this chapter by talking about the coating market. The world coating market as estimated by Fortune Business Insights is projected to grow from $167.04 billion in 2022 to $235.06 billion by 2029, at a CAGR of 5% in forecast period. There is a marginal increase in the trends in the paint coating market of Asia-pacific from 81b US$ in 2021 to just 82b US$ in 2022.
The report has also given the global market details of various coatings share in different industries and also a very important trend in the comparison of conventional solvent born coatings with the advanced and eco-friendly waterborn coatings.
Surface Engineering & Coating Consultant
Web : www.secclab.com